Highland Bridge Tour and Happy Hour
Jul 20, 2022 - 3:00 PM (CT) - Ford Parkway and Cretin Ave S, St. Paul, MN 55116
Hosted by Twin Cities, Minneapolis, MN
About this Event
Register Now for the
July 20th CFMA TC Highland Bridge Tour
and Happy Hour
Wednesday, July 20, 2022
2:45 pm-6:00 pm
Join CFMA Twin Cities on July 20th to tour the Highland Bridge Project in St. Paul. Happy Hour at Tiffany's will immediately follow the tour. Pants and closed toe shoes are required for this program.


For nearly a century, Ford Motor Company was an anchor to St. Paul's Highland Park neighborhood. The Ford plant closed the doors in 2011 leaving an important and large piece of the community vacant, both literally and figuratively.
Through a decade long process, the City collaborated with area stakeholders to create an ambitious master plan for the vast site, incorporating elements important to the community. After formally securing development rights from Ford, Ryan embarked on our own 18-month community engagement journey focusing on the plan's core priorities. In 2019, Ryan and the City entered into a Redevelopment Agreement paving the way for Ryan's purchase of the 122-acre site.


The redevelopment, now named Highland Bridge, connects more than roadways to the surrounding neighborhood; it extends the existing Highland Park community with additional housing, retail, office and greenspace. It welcomes 3,800 new residences—20 percent of which are affordable housing—to the center of the Twin Cities. Highland Bridge connects the existing retail along Ford Parkway to the Mississippi River, creating a dynamic and welcoming mixed-use gateway district. The design honors the natural beauty of the site, adding 1000 trees and sustainable, native plantings and an iconic water feature, treating all site storm water and recharging the Hidden Falls headwater. And it promotes community and wellness with more than 55 acres of open space: a civic square, civic plaza, new parks and two little league fields.


Schedule
2:45 - Check-in (see parking and gathering instructions below)
3:00 - Tour begins
4:00 - Happy Hour


Tour Location:
Highland Bridge/Ford Site Redevelopment project - Ford Parkway & Cretin Ave S, St. Paul, MN 55116
Happy Hour:
Tiffany's - 2051 Ford Pkwy, St. Paul, MN 55116


Tour Parking and Gathering Location:
Entry to the site is via Gate 1, which is accessed through the Highland Village Shopping Center parking lot and is located behind the existing Lunds and Byerly's store. From Ford Parkway you will turn into the lot at Finn Street and drive back through to the gate. You may park beyond the first gate or the second. Please join the group outside of the second trailer from the entrance on the wooden porch facing the river/west.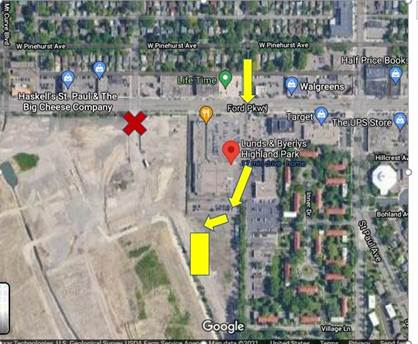 Please register by Monday, July 18, 2022

Mark Your Calendar for Upcoming CFMA TC events:
- August 17, 2022 - CFMA TC Golf Tournament, The Links at Northfork
- September 21, 2022 - Claims management program, location TBD
- October 11, 2022 - CFMA Day, location TBD
- November 16, 2022 - Mock Trial, location TBD
Featured Speakers
No presenter information provided.